About Us
Store Address: 84 Simcoe Street South, Oshawa, ON
Store Phone Number: 905-240-8400
Store Hours:
Monday 10am-5pm
Tuesday 10am-5pm
Wednesday 10am-5pm
Thursday 10am-5pm
Friday 10am-5pm
We will now be open on the FIRST SATURDAY and LAST SUNDAY of every month.
For several years we have had customers ask if we were ever going to open a store and if we were ever going to teach classes locally. My answer was always No. So after getting married, and my husband constantly hearing these comments, thought it would be an awesome thing to do. With his great encouragement, and of course my children's we have decided to go ahead with the new venture for us. (my son may read this and has told me many times to open a store, but he is young, why would I listen LOL) With the encouragement that I have received and the positive feedback, as of September 1st, 2011 we are officially OPEN!!!. The address is 84 Simcoe Street South, Oshawa, Ontaro, Canada and phone number is 905-240-8400. We are located across from the Old Car Museum.
Here is the place that Class Act now calls home!! The stamp side of the store is getting built up, and we'll post pictures of that side soon!!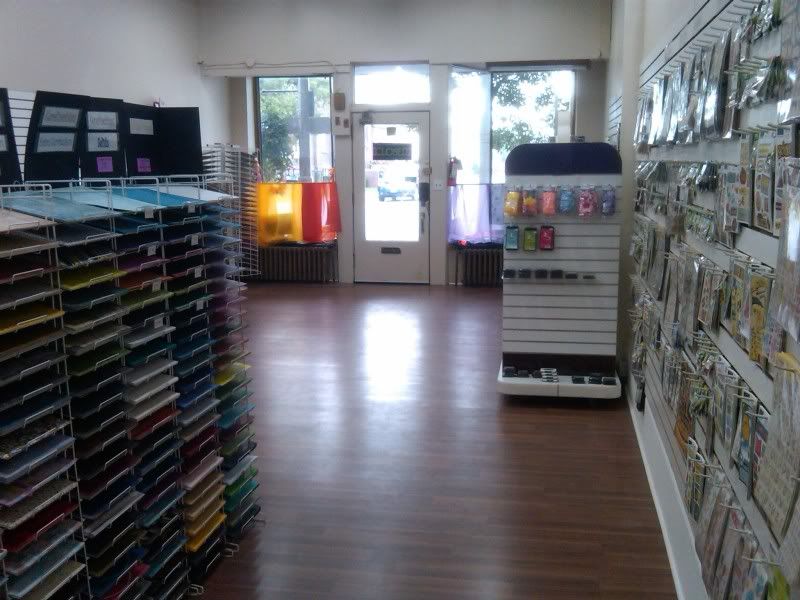 This is where we were about a month ago!

After having two separate websites for years, we have decided to combine the two companies under one "screen" for your shopping convenience!
Class Act/Chapel Road is a Canadian company, owned and operated by Carol Harrison in Oshawa, Ontario. We are a Internet-based business, and thus do not have a public store front. Orders are able to be shipped worldwide, or, if you are in the local area, a pickup can be arranged by filling out a comment form under "Ordering".
About Class Act:
Class Act began as a stamping company in 1996. From day one all stamps have been made on site in Oshawa. Our collection has been growing throughout the years with new images from various artists and designers. Our images are grouped by theme to make life a tad bit easier for our favourite stampers!
About Chapel Road:
Chapel Road has always tried to bring you stamps with a difference....artsy, but with diverse possibilities for application.....whether it be coordinating images, or mix and match text.

Chapel Road was named for the street in Stratford, England, where Shakespeare lived and worked; he left a great impression and we hope we can too.

Carol Harrison is the new owner of this company, but don't worry, Liz Stenson is still the designer. Bringing out new designs, like she always has.
Enjoy perusing the new website! There are hundreds of new images that were not on the previous sites! Happy Stamping!