FAQs/Shipping/classy Reward program
---
We do price match when possible! We just need proof of prices and that the item(s) are in-stock elsewhere.
Shipping Information:
Pick up option:

If you wish to come and pick up your order, upon check out just click " pick up at store.
We do offer curbside pick up as well. For Extended Hours Pickup Option see below.

Due to rising shipping fuel costs, we will be making the following changes effective Aug1st/23:
Shipping Information for Canada
Shipping in Canada ( Ontario ) Shipping rest of Canada
.01 to 49.99 (before taxes) – 12.99 15.00
50.00 to 99.99 (before taxes) - 15.99 18.00
Orders over 125.00 (before taxes) – FREE FREE

All shipping rates are based on orders that fit into our standard shipping boxes (14"x14"x2"). Overweight/oversized items may require additional shipping fees. If shipping to a P.O. Box or rural/remote area, extra shipping may also apply.
For Locals

Deliveries will be made on Tuesdays and overflow on Wednesdays
If you are in the Whitby, Oshawa, Courtice, Bowmanville, Brooklin Area and your order is below 50.00 before taxes, there is a 2.99 delivery charge.
If your order is above 50.00 before taxes, then your delivery charge is FREE.

Extended Hours Pickup Option

Worried about parking? Can't make regular store hours? We've got you covered!
As an alternative to picking up your order at our store in Oshawa, we offer curb-side pick-up in
Courtice (located on Kingswood Drive) on Tuesday evenings (4pm - 10pm).
If you wish to pick-up your order in after hours, please select In-Store pick-up during online checkout and add notes that you'd like AFTER HOURS pick-up. Your order confirmation will still show your order is ready for pickup at Class Act in Oshawa, but we will send you an email with the address and phone number to call (usually Tuesday morning). There is no charge for this service. Cut off for same day pick-up is 4pm on Saturday.


Shipping to United States

.01 to 49.99 ( before taxes) – 15.00
50.00 to 124.99 ( before taxes) - 20.00
Orders over 150.00 (before taxes) - FREE


Our Build A Box Program ( very popular )
To help our customers save money on shipping costs, we have designed a program called Build a Box
What is this you ask?
You may place orders over a short period of time to accumulate your 125.00 value.
In your notes upon check out, please note that you are wishing to build a box.
We will monitor your items, and when your box reaches 125.00 before tax, we will send out your order.
This is not a long term layaway plan, we ask that if you are building a box to please make payment at check out. That way
the items are paid, and ready to go when you reach the goal.


Notification for orders that are ready
We will send you an email notification that your order is ready for shipping along with the tracking number.
If you are picking up in person, please wait for an email to let you know that your order is ready for pick up at the store.
We process all inventory off site, and when it is physically in the store, we will notify you.


Gift Cards and Registry
We have gift cards which is perfect for your receiver. You may even order these online, which will then be emailed to you.
Just print it off, and voila - instant gift.
We also have a gift registry which is perfect for holidays, birthdays and just because.
Simply go to our registry at the top of the home page
Login to your account or create an account, and start adding your items to the registry.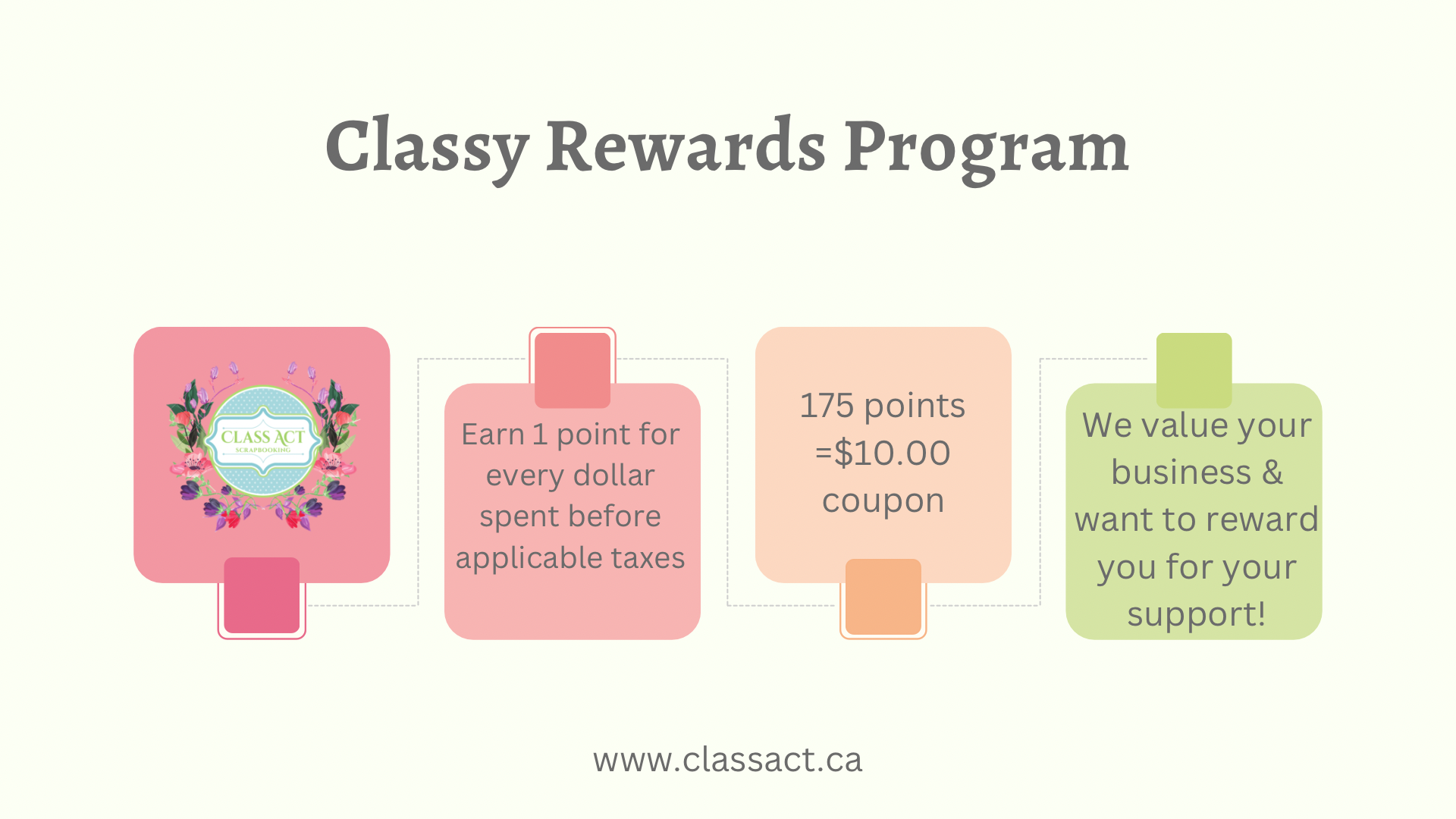 Let people know our website, and they may enter your name in the search and find out what you would like.


Classy Rewards Program
Effective April 1, 2023 we are proud to introduce a new rewards program that works for both online and in-store purchases - Classy Rewards.
As our way of showing our appreciation to you for Shopping with us!! Who doesn't like to earn money off your next purchase? We now have a loyalty program in place that works for both online and in-store shopping. It is easy to join and you can start collecting points right away. In just a few simple steps you'll be on your way to earning points.
Check out all the details below and start earning your rewards points TODAY!
First, you'll have to create an account. If you already have an online account, the system will already apply. No secondary account is necessary. Visit our website at www.classact.ca Simply hit the login button on the right-hand side of the menu bar. Then hit create account. By creating and using your account, this is how the points are earned, tracked and redeemed.
Make sure all the information is correct and spelt and entered correctly. The system will create new profiles if something is misspelt, if you have more than one email address, if you use multiple phone numbers or addresses because it thinks you are a different person. You'll be able to track your points in your profile. If you have multiple accounts, each with a different email address, you'll earn points on whichever account you logged in under. Note that unfortunately points across multiple accounts for the same customer can not be combined.
We suggest you create one primary account, so it is easier to keep track of your points and rewards, to make changes to your account information (ie. Address, email, shipping information) and to assist in earning/accumulating your points much faster.


Here is How it works:
You have to login in when you shop to earn points, points can not be added after the transaction is complete.

When you login to your online account, you can view reward points you've earned and view your reward coupons available for redemption. Simply login and shop for all the nifty items you want to purchase.

Earn one point for every dollar spent, before taxes and before shipping fees.

With every 175 points you will receive a coupon for $10 off your next purchase. Our rewards program is points based. As you shop for all of your favourite supplies you will be earning points that can be cashed in for rewards. Points have no actual cash value.
Points are earned on regular priced products - excluding sales, classes/class kits, kits, crops and special events. Reward points are not earned on orders where other discount coupons are used. Points are not earned on discounted or sale products, including when discount codes/coupons are used
Your points are shown on receipts or order confirmations (for online orders).

Coupons can be redeemed in-store or online for REGULAR priced products only.

Coupons will expire 180 days from the date of issue.

Reward points are non-transferable between accounts or shoppers. Sorry folks they must be redeemed by the person that has earned them.

If rewards are earned on a product that has been returned, the value of the rewards will be returned as well.
We truly value Your Business. We have many, many loyal friends and we want to reward you for all of your support!!

Returns

We want you to love your new goodies. If a product is damaged or defective a return or exchange MUST be made with a receipt and within 30 days of purchase. Items must be unopened, in original packaging or damaged/defective. If purchased online, items must be returned before a refund is given. There are no refunds or exchanges for clearance and sale products, open stock paper/cardstock, special orders (unless defective), magazines, paints, pens and markers etc.
If a custom or online order is cancelled after it was placed it may be subject to a restocking fee.